Smart patented ignition Interlocking device that detects fraud
The unique SoberNet® system determines the amount of alcohol employees are blowing into the breathalyzer at remote workplaces or in a fleet vehicle. The test is done in a matter of moments, without any supervision.
Get Free Demo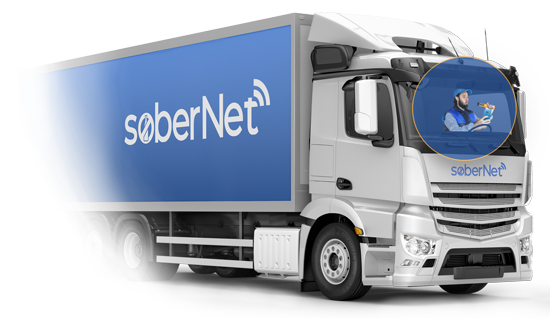 Why SoberNet® is the most reliable car breathalyzer on the market?
Ignition Interlock device uses a contactless breathalyzer that can enhance fleet safety. It is an affordable system for large vehicle fleets through patented technology and this type of system immediately detects fraud that is not possible with other Interlock systems on the market today.
SoberNet has a reliable facial recognition algorithm, which captures the entire mouth area on the screen. Any attempts at the test by other persons, or the use of other measures, are recorded – as a result, the analysis is rendered invalid and is reported.
The breathalyser generates a unique sequence of light impulses every time it is used. This sequence is recognised by the mobile app. As a result, attempts to fool the analysis with another device are deflected.
Any attempts to submit a fake, or retake a sample, are recorded and reported to the administration team – so the employee has no chance of cheating the breathalyzer in the car.
SoberNet is a reliable zero-tolerance system. When even the slightest amount of alcohol is recorded, it is reported to a supervisor. If SoberNet Interlock is installed in a vehicle together with the telemetry system designed for the monitoring and control of a vehicle, it can lock the engine of that vehicle.
Samples can be collected several times a day, so you can be sure that your employees will always remain sober.
Get Free Demo

SoberNet®️ configurations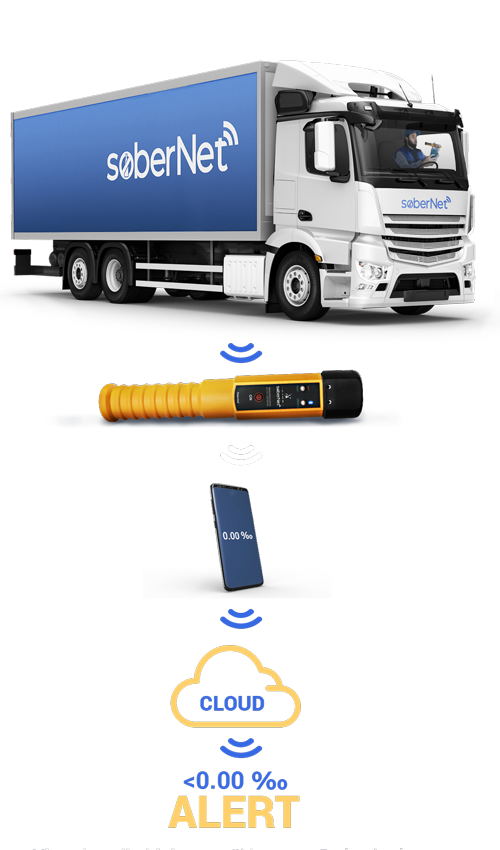 Virtual ignition interlock – requests to take a test are created by the administrator, also according to a pre-planned schedule. If alcohol is detected or a test is not performed, the system informs the responsible persons.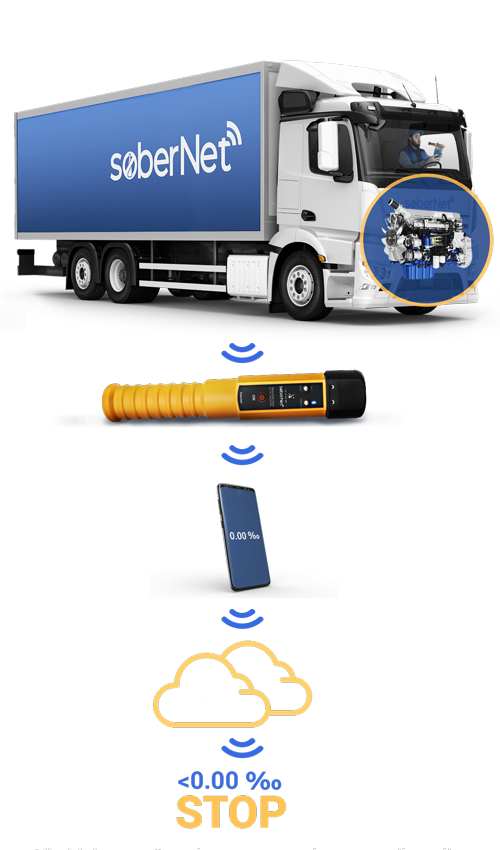 Ignition interlock – The vehicle can only be started after a test. If alcohol is detected, the Interlock system will not allow the engine to start and will immediately inform responsible persons.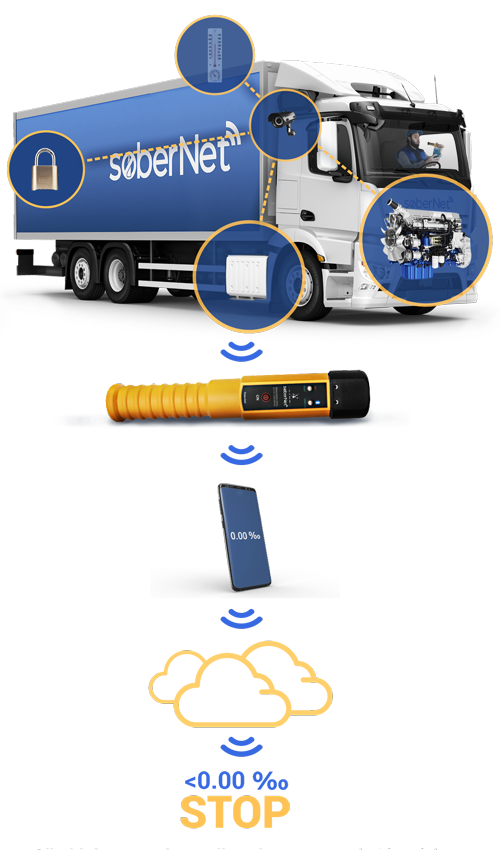 Ignition interlock device with telemetry – keep track of everything in one place. SoberNet® easily integrates into the telemetry system for your convenience. Immobilizer and random tests will ensure driver sobriety and fleet safety. The driver is also identified by the tachograph card.
Why SoberNet® is better than other ignition Interlock devices on the market today?
Patented smart solution that leaves no chance for the driver to cheat:
In general breathalysers designed for car are easy to cheat (even with a video camera option) when there is no one to supervise when the driver is providing sample. Another person can provide a sample to the breathalyser while the driver would be holding a similar device or item in their hand to cheat face recognition.
Real time data and driver control:
Most car breathalysers do not have real time data transfer and results can be checked only after the car is returned to the garage, it can be a few weeks later in the case of long haul trips across Europe. The Sobernet system will inform administrator or the fleet manager by text message to their mobile phone immediately.
Affordable for large fleets, 3-4 times better price compared to traditional Interlock:
Traditional ignition interlock devices (sometimes referred as interlock, autoblock, alcolock, алкоблок, алкозамок) are very expensive and do not fully resolve drink driving issues. There is no need for large investment to start using Sobernet Interlock, we offer both lease and affordable hardware purchase options.
Besides traditional Interlock we have an option without ignition block which we consider a more affordable and trouble free solution: no need to block ignition, which might have technical issues and cause huge delays. In fact for various reasons transport companies do not want to block ignition.
Sobernet Interlock has preventive concept and is not aiming to apply penalty by the law which is absolutely not needed for preventive purpose. Sobernet system is manufactured by worldwide know manufacturer Lion Laboratories in UK. Please feel free to contact us for more details.